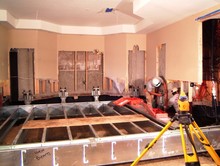 Our projects include residential, multi-family, commercial and government work. We offer structural repairs, foundation support systems including helical piers / anchors, resistance piers and micropiles, drainage improvements, building envelope repairs, structural floor installations, intrusive testing and cosmetic repair services. Please take this opportunity to browse our gallery of photos and read a few of our project-specific case studies for more information about us.
OUR BLOG & NEWSLETTERS
Signs of Foundation Failure
Helical Install at Wyoming Power Substation
Causes of Water Problems
What Are Helical & Resistance Piers?
Park Range Construction has been designated WOSB – Woman-Owned Small Business.
PRC NEWSLETTER – Fall/Winter 2013 Issue
In This Issue
1. ECP Resistance Piers Underpin Existing Residential Foundation
2. New Restaurant Foundation Uses Helical Piers
3. Repair and Renovation on Multi-Family Housing
4. What are Resistance Piers?
PRC NEWSLETTER – Winter 2012 Issue
In This Issue
1. Structural Floor & Foundation Wall Repair in Littleton
2. Porch, Column and Railing Repairs in Castle Rock
3. Micropile Underpinning in a Superior Townhome Community
4. Larkspur Residence Undergoes Wall Repairs
PRC NEWSLETTER – Spring 2012 Issue
In This Issue
1. Helical Pile Installation at Power Plant Sub-Station
2. Historic Water Works Restoration
3. Causes of Water Problems
4. Helical Pile Installation at Power Plant Sub-Station
PRC NEWSLETTER – Fall 2011 Issue
In This Issue
1. NIST Elevator Hoist Way
2. Real-time Torque Monitoring
3. Grouted Rip-rap Swale Install
4. Bar & Grill Remodel & Build-out
PRC Newsletter – Spring 2011 Issue
In This Issue
1. About Us
2. Our Services, Drainage & Structural Repair, Intrusive Testimony and Expert Witness Testimony
3. Micropiles & Helical Piers
4. Structural Floors
CASE STUDIES
Residential
Major Structural Repair
Underpinning is the process used to stabilize and strengthen the foundation of an existing structure. Foundations that have settled or heaved can be re-leveled back to a plumb condition through the underpinning process. Park Range performs underpinning with micropiles, helical piers and resistance piers. Click on the link below to see a case study based on a residential underpin performed by Park Range Construction.
Major Structural Building Repairs in Colorado – Broomfield
Resistance_Piers_Underpinned in Wyoming – Lander
Large Projects
Sub-divisions
Sometimes whole sub-divisions require repairs on grading and drainage as well as structures. Click the links below to learn more about repairs performed on a large Littleton, Colorado sub-division, a major structural building repair in Aurora, Colorado and the use of helical foundation piers in Colorado in a residential community of Garden of the Gods.
Drainage Improvements in Colorado – Littleton Subdivision
Major Structural Building Repairs, Colorado – Aurora
Helical Foundation Piers in Colorado – Garden of the Gods
Centennial Subdivision – Structural Repairs – Coming Soon!
Multi-family
Sub-divisions
Park Range has performed grading and drainage improvements for entire multi-family and residential sub-divisions for overall drainage improvements and de-watering. Park Range has also installed micropile foundation support systems and has performed cosmetic repairs to townhome communities. Click the links below for multi-family sub-division case studies in Edgewater, Colorado Springs and Superior townhome communities.
Underpinning & Cosmetic Repairs – Superior, Colorado
Drainage Improvements in Denver, Colorado – Edgewater Townhome Community
Drainage Improvements in Colorado – Colorado Springs Townhome Community
Commercial
Park Range has experience repairing a variety of commercial buildings. The case studies below include just a few examples of repairs we have performed, such as micropile applications, helical pier and structural pad installation, tiebacks and renovation as well as interior remodeling.
Helicals for New Restaurant IZAKAYA DEN
Structural Repair of a Pad and Helical Piers in a Colorado Automotive Center
Retail Warehouse – Renovation and Tiebacks
Denver Restaurant – Interior Remodel
Lakewood Childcare Retrofit – Micropile Applications
Helical Piers in Denver, Colorado – US Post Office Expansion
Government
Park Range is also qualified as a government contractor. Below are a few examples of work contracts we have won ranging from city to federal levels such as a new boardwalk foundation in a protected area, new construction foundations for a US Post Office expansion and an elevator hoist way installation for the National Institute of Standards and Technology.
Helical Piers in Colorado for a Boardwalk Foundation
Helical Piers in Denver, Colorado – US Post Office Expansion
Elevator Hoist Way Installation – Golden, Colorado
Historical Renovation
We also have experience performing structural repairs and renovation on historical structures.
Fort Collins Water Treatment Plant – Structural Repair and Renovation
Industrial
Park Range is experienced working in industrial environments, such as power sub-station facilities. Below is a case study of a helical pier installation project at a power sub-station in Wyoming.
Helical Install at Wyoming Power Substation